Why six MLB clubs stay in Venezuela despite rising crime and bitter politics
Major League Baseball teams are shuttering their academies in Venezuela due to rising crime and political tension, but the country remains the No. 2 source of foreign players in the MLB.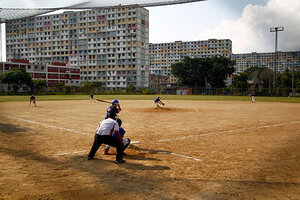 Jorge Silva/Reuters
A tall, lanky infielder drops the ball three times before he finally gains control of the grounder. Pitches sail past the catcher's mitt. Balls roll agonizingly deep into the outfield.
The casual observer could forgive the players, none older than 16, for their fumbles. But not the dozens of scouts representing every Major League Baseball (MLB) team silently scrutinizing the action, jotting down notes, and timing the execution of each play.
"I'm looking for the ones that aren't nervous," says Rolando Fernandez, the senior director of international scouting for the Colorado Rockies.
IN PICTURES: Top Dominican baseball players
That every MLB team attended this recent showcase in rural Venezuela was proof that interest in local players remains intense despite most clubs shuttering full-time operations here due to rising crime and tense politics, opting to instead conduct their Latin American scouting operations from the Dominican Republic. Only six teams still have academies in Venezuela, down from 21 in 2002.
The fact remains: Venezuelans can play ball. A record 62 Venezuelans suited up for the start of the 2011 MLB season, up from 58 last year, with only the Dominican Republic sending more players to the US.
---