Chileans protest government approval of five Patagonia dams
Dam projects are drawing increased criticism in South America, which boasts three of the world's four biggest hydroelectric dam complexes. Chile is pushing forward with a $7 billion dam project.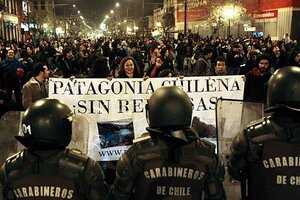 Eliseo Fernandez/Reuters
Chileans in at least nine cities protested Monday after authorities voted to approve the first environmental impact study for a $7 billion hydroelectric project in Patagonia that could flood 14,600 acres of land.
Thousands of people took the streets in Santiago, blocking traffic in several parts of the city until police used teargas and water cannons to drive them away. In Coyhaique, where 11 of 12 members of an environment commission voted in favor of the project, demonstrators threw coins and rocks at riot police who eventually cleared a path for the officials to leave, local press reported.
"There are marches throughout the country calling for sustainability," Kemel Sade said outside the presidential palace in Santiago, where he was carrying a banner. "It's the first time this has happened in Chile. We're a mining country, but that doesn't mean we have to depend on energy from this mechanism. There are other options." Mr. Sade has the same name as his father, who was one of the government regulators who voted in favor of the dams.
Dam projects are stirring increasing controversy in South America, which boasts three of the world's four biggest hydroelectric dam complexes. Seven of the continent's 13 countries have plans for more than 1,000 megawatts of new hydropower, according to the World Energy Council. While in the last dam-building boom, in the 1970s, the region's dictators could ram through such controversial projects, the protests in Chile show greater citizen involvement in politics as democracy has taken hold.
---
Follow Stories Like This
Get the Monitor stories you care about delivered to your inbox.