After Haiti inauguration, carnival performer-turned-president looks to rebuild
Haiti's President Michel Martelly, a political novice backed by the US, was inaugurated this weekend. In a country long failed by its leaders, many Haitians seem optimistic that he can succeed.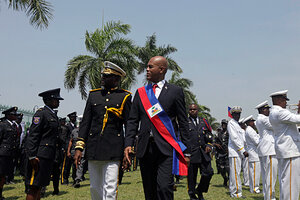 John Darboure/AP
Santo Domingo, Dominican Republic
Back in 1995 when he was a flamboyant musician with few political aspirations, Michel Martelly quipped that he'd dance naked atop Haiti's National Palace if elected president – a move emblematic of many Haitians' low esteem for the post.
Now president, instead of dancing on the building, he'll be trying to rebuild it – physically and symbolically. The white palace still lies in ruins more than a year after a magnitude-7.0 earthquake toppled thousands of buildings in the capital and killed at least 300,000 people. Haiti's challenges include nothing short of rebuilding a nation plagued by poverty and dependent on foreign aid, an immense task for any country. For Mr. Martelly, a political novice with little support among the elite, the task will take on added difficulty.
Yet, in a country long failed by its leaders, Haitians opted for the carnival performer over establishment candidates. When it was announced in March that Martelly had beaten former first lady Mirlande Manigat, a respected career academic, by a 2-to-1 margin, Haitians gathered in front of the electoral council office and sang, "The country is for you. Do what you like with it." Haitians inaugurated Martelly on May 14. Many seem optimistic that he can succeed where so many before him did not.
"Haitians have a lot of hope that the Martelly government can be different," says Chavannes Jean-Baptiste, founder of the influential Peasant Movement of Papaye, a rural grass-roots organization.
Haiti became the world's first officially independent black nation when it revolted against the French in 1804. But decades of corruption and mismanagement had turned it into the Western Hemisphere's poorest country by the time of the January 2010 earthquake. Three decades of dictatorial rule by François "Papa Doc" Duvalier and his son, "Baby Doc," beginning in 1957, were followed by a dizzying succession of coups d'état. Current President René Préval is the first elected leader to successfully complete two full terms without being chased from office.
Enter Martelly. The son of a petroleum-plant supervisor, he grew up in a strict middle-class family and went on to become the brash kompa singer "Sweet Micky," famous for mooning the crowd and for his crass lyrics. His music won him fans at home and abroad among the diaspora – Haitian-American rapper Wyclef Jean gave him a cameo on an album and endorsed him for president – providing an immediate support base during his campaign as an outsider who could challenge the status quo.
What he lacks in support among the political class he makes up for in backing from the United States, the nation's largest aid donor. Secretary of State Hillary Rodham Clinton flew to Haiti in January to ensure Martelly advanced to the March 20 runoff after allegedly fraudulent first-round results knocked him out. She welcomed him to Washington last month for his first postelection trip abroad.
Sign up for our daily World Editor's Picks newsletter. Our best stories, in your inbox.
"Change is coming May 14," he said in Washington. "My focus … is to revive and modernize Haiti's economy as its new president and provide free access to education, moving people out of tents by jump-starting reconstruction and focusing on the agriculture sector. In short, it's a new day for Haiti."
---