US guns fuel Mexico drug war? The politics behind the issue.
A new report shows that 70 percent of confiscated weapons submitted for tracing come from the US, but critics say the figure is politically motivated.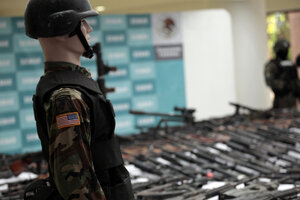 Jorge Dan Lopez/Reuters
Who is supplying guns to Mexican drug traffickers?
The answer has become one of the most polemical in the gun rights debate, with Mexico blaming lax US gun laws and gun rights advocates saying that blame is misplaced.
Statistics are cited. Methodologies are dismissed.
A new report released this week by US senators has renewed the fight, with valid points coming from both sides of the divide.
The report, issued by Sen. Dianne Feinstein (D) of California, Sen. Charles Schumer (D) of New York, and Sheldon Whitehouse (D) of Rhode Island, bases its conclusions on US Bureau of Alcohol, Tobacco, Firearms, and Explosives (ATF) statistics. The report states that of 29,284 arms handed over for tracing by Mexican authorities in 2009-10, some 70 percent came from the US.
The senators conclude that military-style guns have "contributed to Mexico's dangerous levels of violence," and that legislation to tighten gun laws, like reinstating the expired Assault Weapons Ban, is in order.
---