Chile's student protests could undermine president's approval
The education ministry says 180 schools around the country are on strike as students demand economic and academic accountability.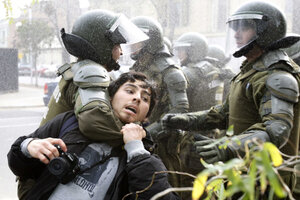 Carlos Vera/Reuters
Francisco Jorqueira, a Chilean student, says his private university is on strike, along with some 180 others across the country, to demand accountability after tuition rose from 3 million pesos last year (about $6,400) to 3.2 million pesos this year.
Mr. Jorqueira's father earns 800,000 pesos a month, meaning that his tuition now amounts to four months of his family's income, he said while handing out flyers for today's march and student strike, which saw an estimated 70,000 demonstrators hit the streets of Chile's capital, Santiago.
Jorquiera is one of thousands of students protesting the state of education in Chile, a movement that is gaining momentum and could turn into a political crisis for President Sebastian Piñera.
Students have called for a national student strike to demand an end to privatization and profiteering in education, more scholarships, and increased public support for secondary schools and universities. Loans currently charge 7 percent interest, and the law prohibits students and faculty from having any voice in university administration, Jorqueira says.
A challenge for Piñera
The demonstrations add to a year of setbacks for the country's first conservative president since the military dictatorship of Augusto Pinochet ended in 1990. President Piñera's approval rating fell to 36 percent in May, down from 63 percent seven months earlier in the wake of the successful rescue of trapped workers at an underground mine, according to pollster Adimark. The public widely opposes the government's approval of a new dam complex in Patagonia, fare increases for public transport, and rising food prices.
---