Nicaragua quake survivors get new homes - 40 years after disaster
The Nicaraguan government has completed permanent housing for 103 families who have been squatting in the ruins of four abandoned high-rises in Managua since the 1972 earthquake.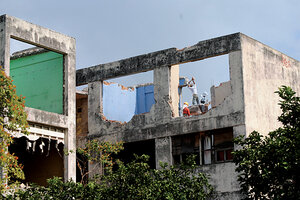 Tim Rogers
Managua, Nicaragua; and Mexico City
When Guillermo Martin Treminio's house crumbled in the 1972 earthquake that leveled Nicaragua's capital, killing 10,000 people and destroying 50,000 buildings and homes, he had nowhere to go. So he moved his family into a crumbling apartment building in downtown Managua that the wealthy had abandoned.
Mr. Treminio's refugeelike living conditions, which he had once hoped would be temporary, became home for almost 40 years. "We had lost hope," he recalls.
But now he has finally moved his family into permanent housing, thanks to a government program to relocate 103 families who also squatted in the skeletal remains of four abandoned high-rises known as "the ruins." It's one of the last efforts of cleanup after the devastating quake.
"The so-called squatter settlements in the ruins are nothing more than earthquake refugees who never got a place to live after the quake," says Nicaraguan historian Roberto Sánchez Ramírez.
Their four-decade-long plight may be extreme, but it highlights a reality in the wake of large-scale disaster, both natural and human-caused. Though critics often fault governments and aid organizations for the slow pace of reconstruction, months and even years may pass before the displaced regain a solid sense of home.
In Haiti, a year and a half after its devastating earthquake, permanent housing reconstruction has not even begun. Even after the 2004 Indian Ocean tsunami, the aftermath of which is seen as a model for reconstruction, it took four years for families to find permanent homes. Five years after hurricane Katrina in the United States, thousands remained in temporary housing.
---