In Toronto, frustration and the rise of the 'uber-raccoon'
The arrest of a Toronto man on animal cruelty charges has brought local frustrations with the city's raccoon population to the surface.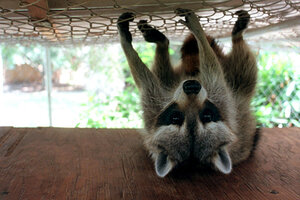 Jim Damaske/Zuma Press/Newscom/File
Finding ever more ingenious ways to stop raccoons from damaging their property is a fundamental part of life for many homeowners in Toronto. But the typically good-natured attempts to thwart the animals shifted to a heated debate over how to control them when police arrested and charged a man earlier this month for allegedly attacking a family of raccoons with a garden spade.
Police led Dong Nguyen, 53, away from his west-end Toronto row house in handcuffs just before 6 a.m. on a weekday morning and charged him with cruelty to animals and possession of a dangerous weapon. A neighbor had called police, saying he heard what sounded like screaming and ran outside to find a man knocking a kit raccoon off a fence and beating it with a spade.
Mr. Ngyuen's wife, Thuy, said there was a misunderstanding and her husband was just trying to scare the raccoons away with a broom. But animal rights activists are calling for a heavy sentence for Dong Nguyen, 53, who faces up to two years in prison if he is convicted.
Raccoons thrive in modern cities, mostly because they have a ready food supply. Some studies have found that North America's urban raccoon population is twenty times larger than it was 70 years ago, and Toronto, dubbed the raccoon capital of the world by an investigative public television program, is believed to have an especially high population.
Nguyen's neighbors say he deserves leniency, and that the government should devote more resources to controlling Toronto's large raccoon population.
---