Peru's new highway to the future
The Interoceanic Highway, which will connect Peru's Pacific coast to the shores of the Atlantic in Brazil, could revolutionize the region much as the transcontinental railroad did in the US in 1869.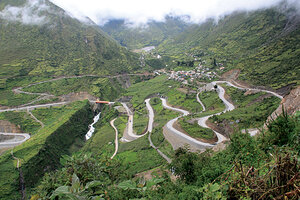 Steven Bodzin
Traveling from Brazil's Atlantic coast to Assis, on the border with Peru deep in the Amazon, took Raul Pereira weeks over a precarious dirt road in 1974. The trip required machetes.
Today, his house and workshop are on a paved road. "This was an animal trail in those days," he says.
For years, Assis was the end of the road. Traveling on through the Peruvian Amazon and over the Andes was an adventure on mud tracks. Asked how business is at his roadside mechanic's workshop, the Brazilian gives a thumbs-down. And the lack of a road didn't just hurt his business, but also cut billions of dollars in potential trade between Brazil and Peru.
That's about to change. After decades of delay, Peru is on the verge of completing the $2.75 billion Interoceanic Highway connecting Mr. Pereira's house – and the rest of Brazil – to the west coast. Pereira, and millions more Brazilians and Peruvians, will see their lives change radically once they live along the continent's first true transcontinental highway.
Traffic is already growing. Cesar Bonamigo, a diplomat at the Brazilian embassy in Lima, says 3,500 people crossed the border in 2006. As crews laid asphalt in 2009, he says, that rose 10-fold to 35,000.
---