Canadians use social media to out Vancouver rioters
Some see the use of social media skills to learn the identities of post-Stanley Cup Vancouver rioters as a dangerous new trend. Many officials are worried about vigilante justice.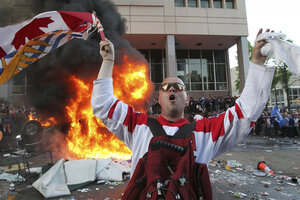 Anthony Bolante/Reuters
Canadians were outraged when mobs rampaged through downtown Vancouver after the Canucks hockey team lost the Stanley Cup championship earlier this month. Now, that outrage has found what some observers see as a dangerous new outlet, through dozens of social media sites dedicated to outing and punishing the rioters.
The sites include photos and videos of people doing everything from breaking shop windows to trying to set a police car on fire to looting luxury goods stores. They name names, post telephone numbers and addresses, and sometimes include threats and racist and homophobic language. And they have provoked outrage on their own among those who warn that they are part of a new and even more dangerous type of online mob promoting a culture of mass surveillance.
"It resembles a public lynching where you have mobs of people taking justice into their own hands," says Alexandra Samuel, a social media expert at Emily Carr University in Vancouver. ""There are lots of governments in the world who will be very interested in using this as a model."
Social media is already used in individual cases to "out" presumed wrong-doers, from Facebook pages that reveal the bad behavior of an ex-partner to websites that name known sex offenders. But social media experts say this is the first time an entire community has used the tools to do what is normally considered the work of the police and the justice system.
---