Hugo Chávez's triumphant return to Venezuela
Just days after announcing that he was being treated for cancer in Cuba, Chávez made a surprise return to Venezuela yesterday. He's just in time for today's bicentennial celebrations.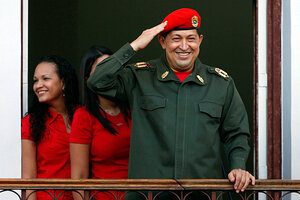 Carlos Garcia Rawlins/Reuters
For five minutes yesterday, Venezuelan President Hugo Chávez stood on the balcony of his presidential palace in silence, lapping up the cheers of thousands of supporters ecstatic to see their hero back in town after a long – and uncharacteristically silent – period of convalescence in Cuba.
Mr. Chávez's surprise return – just days after announcing that he had been undergoing treatment for cancer while in Cuba – comes just in time for the country's bicentennial celebrations today.
Street parties are planned across the nation and a military parade will wind through the capital, Caracas, to mark 200 years since Venezuela won its independence from Spain.
The festivities have been planned for years and Chavez wouldn't have missed it, say analysts.
"The bicentennial is an irresistible political moment for [Chávez]," says Michael Shifter, president of the Inter-American Dialogue think tank in Washington. "He naturally wants to make the most of it, and he can only do that in front of adoring throngs in Venezuela."
And adoring they were.
"We give our hearts to our Comandante Chávez," says Maury Carrasquel, wearing a red beret as he watched Chávez speak from the palace balcony.
---