Mexican Navy, US Coast Guard continue search for US tourists off Baja
Seven Americans are still missing after the fishing boat they were on capsized Sunday off the Mexican coast in the Sea of Cortez. One American was killed when the boat sank, but the rest of the crew and passengers were rescued.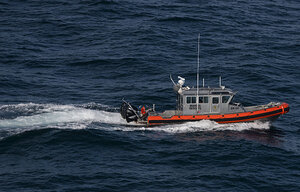 Francisco Vega/AP
The US Coast Guard said Wednesday it will continue rescue efforts all day to find seven missing Americans whose boat capsized Sunday off Mexico's coast, as the possibility of survival still exists.
Coast Guard public affairs specialist Levi Read told The Christian Science Monitor that 80-degree water and air temperature along with family members' assertions that the missing are experienced fishermen and outdoorsmen have kept hope alive.
At least 43 Americans and Mexicans were stranded in the Sea of Cortez off Mexico's Baja California peninsula after their chartered fishing boat broke in two and sank.
"The Coast Guard policy is that we continue searching for survivors as long as there's a possible belief of survivability, and at this point we still believe there is a probability," Mr. Read said early Wednesday. "There are different calculations that we put into locating and predicting survivability, and ability is one of the aspects."
Authorities confirmed one American dead, Leslie Yee. All but seven others had been rescued by local fishermen and the Mexican Navy. Twenty seven aboard were US citizens.
Mexican Navy takes lead
The Mexican Navy is leading the search and rescue mission. The Coast Guard is assisting with a C-130 fixed-wing aircraft that has a 3,000-mile range and a crew of seven, Read said. Authorities picked up the search at first light after suspending it Tuesday night.
---