Peru swears in new president: Who is Ollanta Humala?
Peru's new President Ollanta Humala is a former Army officer who once led a rebellion. He faces the task of maintaining rapid economic growth while diffusing growing social unrest.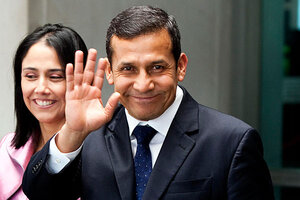 Joshua Roberts/Reuters/File
Peru's new president, Ollanta Humala, takes office today and may need all the skills of his Inca warrior namesake to juggle multiple social demands while maintaining this Andean country's rapid economic expansion.
Mr. Humala begins his five-year term amid one of the longest economic expansions in the country's history. Peru's gross domestic product has risen at an average rate of 7.2 percent annually, according to the UN Economic Commission for Latin America and the Caribbean (ECLAC), with the highest growth over the past five years. The economy grew by 8 percent in the first five months of this year alone.
This flood of cash could come to a screeching halt if the Humala administration does not find a balance between his many campaign promises of social inclusion, including new welfare programs and dealing with ongoing social conflicts, and keeping the economy strong.
While inflation is negligible and exports are booming, the government agency that safeguards citizen rights catalogued 217 social conflicts in June, 105 of which saw at least one violent incident. More than 100 protesters have been killed in clashes with police officers in the past few years, nine alone in two protests in the highlands in June.
More than half of the conflicts are environmental in nature and aimed at the heart of the economic motor – mining and oil or gas projects. The Energy and Mines Ministry forecasts $42.5 billion in investment in mining projects in the coming five years. Another $15 billion should be added by energy projects.
---