Teen killer's light sentence dismays a violence-weary Mexico
Edgar Jimenez was sentenced to three years in juvenile detention for a murder case that critics said should have been used to send a message on consequences to other young violent offenders in Mexico.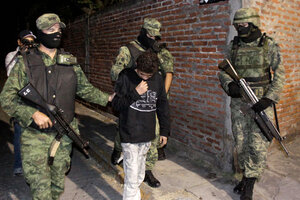 Antonio Sierra/AP/File
When a teenager coldly confessed to his role in the assassination of four people, who were found beheaded and hanging from a bridge in Central Mexico last year, the nation was stunned. From new mothers to older Mexicans who have watched violence spiral in the past decade, they hoped that the shocking case would at least be a wakeup for a society that appears increasingly inured to murder.
This week, however, many of them are reacting bitterly to the sentence that was just handed down. Edgar Jimenez, better known as "El Ponchis" and dubbed by the media here as the "boy killer," received three years in juvenile detention, a sixth of which he has already served. It is the maximum that the state of Morelos allows for minors.
"He might be a child, but he is a criminal," says Maria Mojica, who says she is saddened by the violence that seems to overshadow everything else about this nation. "This will not instill fear in others who commit crimes."
Young people are increasingly the perpetrators of violent crime in Mexico. Sometimes they are forcibly recruited and threatened by drug gangs. Other times the allure is too great, and drug money looks like an easy out in the face of few opportunities and impunity rates that are well over 90 percent. And while the sentence for Mr. Jimenez is considered too light by many, hardly dissuading others from killing for money, his case has underscored how much institutions have deteriorated in many parts of the country.
"Our system is not strong enough to enforce [the law]," says Elena Azaola Garrido, a criminal justice anthropologist at the Center of Research and Higher Education for Social Anthropology in Mexico City. "Children can take a chance because they see most are not captured. There are inadequate policies to tackle this."
---