Chilean students taking to streets against 'Pinochet's education'(VIDEO)
Chilean youth have held continuous rallies for two months to protest the country's poor education system, which has not substantially changed since the fall of dictator Augusto Pinochet in 1990.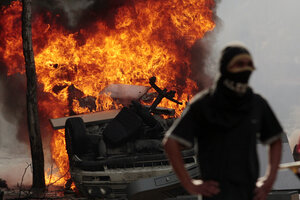 Luis Hidalgo/AP
The tune of the protest song is familiar. "It's going to fall, it's going to fall," chant students in the streets of Santiago and other Chilean cities, using the same lyrics used in marches against military dictator Augusto Pinochet in the 1980s. But this time, they don't say the government will fall, but rather the country's education system that hails back to the Pinochet era.
Before the dictatorship, Chilean higher education was free, just as it remains in much of South America. But Mr. Pinochet created a system of private universities and voucher-type subsidies for private schools. Today, low-income Chileans generally go to public schools or voucher schools and end up in expensive, often low-performing private universities. After waiting in vain through decades of center-left government, students have found their voice in the face of the country's first elected conservative government in more than 50 years.
"I'm a child of the dictatorship," said Marcela Salas, a telecommunications manager taking part in a continuous 75-day student protest relay run around the presidential palace in Santiago. "There was no access to information. The kids who have grown up since then, they are better informed, and better trained to express themselves. And not just through political parties, not just left or right. Now it has come to a breaking point."
Chilean cities have witnessed near continuous rallies for two months that have torpedoed support for President Sebastian Piñera, leaving him with the lowest approval rating among Chilean leaders since the dictatorship ended in 1990. The rallies show growing frustration with a political system that has failed to provide a route to a better life.
---