Ahmadinejad's visit with Chávez likely to sour US-Venezuela relations
Hugo Chávez and his Iranian counterpart share a history of anti-US vitriol. This visit, Ahmadinejad's first since the US sanctioned Venezuela over trade with Iran, will likely add fuel to the fire.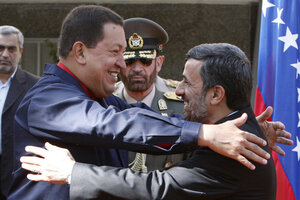 Vahid Salemi/AP/File
Venezuelan President Hugo Chávez is set Saturday to host his Iranian counterpart, Mahmoud Ahmadinejad, in a state visit likely to further sour relations between Venezuela and the United States.
President Ahmadinejad's visit is his first since the US slapped sanctions on Venezuelan state oil company PDVSA, due to its ongoing trade with Iran. And the trip comes immediately after he sparked a walk-out at New York's UN General Assembly meeting on Thursday when he called the Sept. 11, 2001, attacks "mysterious" and a pretext for the US to invade Afghanistan and Iraq.
Mr. Chávez himself is no stranger to controversy in the UN's New York auditorium. In his 2006 speech at the Assembly, Chávez stood at the lectern the day after former US President George W. Bush had, and said, "The devil came here yesterday," while theatrically sniffing the air. "It smells of sulfur still." Chávez then made the sign of the cross before clasping his hands in prayer and looking to the roof of the auditorium. The Venezuelan leader went on to describe Bush's "domination, exploitation, and pillage of the peoples of the world."
---