A year after joyous miner rescue, Chile struggles with conflict
After soaring to a 65 percent approval rating following the miner rescue, President Sebastian Piñera's rating is now at 30 percent as his country is riven by protests, riots, and other crises.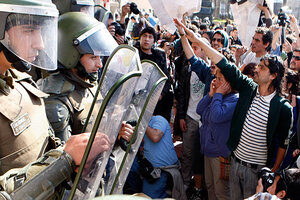 Eliseo Fernandez/Reuters
A year after Chile gained a boost of public confidence and national pride by rescuing 33 miners trapped a half-mile underground, the country is now wrought with political and social squabbles that are demolishing politicians' approval ratings.
The image of national unity, flag-waving, and people hugging in the streets has given way to grimmer imagery. Demonstrations by students, environmentalists, unionists, and indigenous activists have given rise to riots, with troublemakers tearing down streetlights, trashing banks, and even invading homes. Police, under pressure to halt the unrest, have launched hundreds of canisters of tear gas, deployed water cannons against thousands of marchers, and killed a bystander with what was supposed to be a warning shot.
President Sebastian Piñera has suffered the most from the unrest. After just scraping to an electoral win in late 2009, Mr. Piñera soared to a 65 percent approval following the miner rescue. At the end of last month, his approval had fallen to 30 percent, according to a nationwide poll by Santiago-based Adimark GfK. That is lower than any other president in the Americas, according to Mexican pollster Consulta Mitofsky.
But Piñera's rivals aren't gaining from the national malaise either; the opposition has only 17 percent approval according to Adimark.
Officials close to Piñera say that the approval ratings will rebound once the student issues are resolved and the public sees his achievements, such as a new welfare program that pays the poorest families so long as children attend school and get medical checkups.
A high point for Chile
---