Cristina Fernandez de Kirchner, Argentina's comeback president?
President Cristina Fernandez de Kirchner was hugely unpopular among Argentines in 2009. But she is set to easily win reelection Sunday due to Argentina's economic rebound and weak opposition.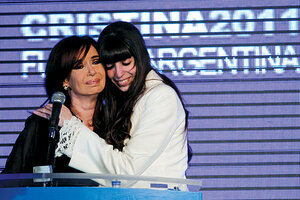 Enrique Marcarian/Reuters
Buenos Aires and Mexico City
Soon after taking office in 2007 in a first-round victory, Argentine President Cristina Fernandez de Kirchner began butting heads: first with grain exporters, then with the news media. Critics called her arrogant, stubborn, and a puppet of her husband.
That sentiment was reflected in midterm elections in 2009, during which her Peronist Party lost its absolute majority in both houses of Congress.
But now, two years later, Ms. Kirchner appears poised to once again easily regain the presidency when Argentines head to the polls on Sunday.
What is behind her turnaround?
Argentina's economic rebound
Kirchner has certainly benefited from a solid economic run that means Argentines, spooked by the prospect of economic crises, feel better off than they did a year ago. She has created and expanded new social programs. She also faces a weak, fractured opposition.
And, perhaps most important, she was buoyed politically by the unexpected death of her husband, former President Nestor Kirchner, last year. Critics had claimed she made it to the presidency only on his coattails. With him gone, she not only has garnered sympathy but proved to many skeptics that she indeed knows how to run her own show.
"The economy started to recover. Then there was the death of Nestor, which had a strong impact because of its unexpectedness and turned Cristina into a widow one could sympathize with," says Federico Thomsen, a Buenos Aires-based economic and political analyst.
---