Buoyed by historic win, Argentina President Kirchner recommits to 'national project'
Argentina's President Cristina Fernandez de Kirchner took 54 percent of Sunday's vote compared to just 17 percent by her nearest rival – the largest victory margin in Argentine history.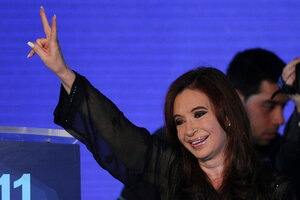 Enrique Marcarian/Reuters
Argentine President Cristina Fernandez de Kirchner swept to a historic victory in Sunday's national elections, gaining a second term in office in which she promises to continue "developing the national project"and maintain Argentina's current economic boom.
Less than two hours after the polls closed at 6 p.m. Buenos Aires time, national media networks were declaring the Peronist leader a clear winner, well ahead of nearest rival Hermes Binner, the Socialist governor of Santa Fe Province.
Official figures showed Mrs. Kirchner winning 54 percent of the vote with 98 percent of the ballots counted, meaning she easily crossed the threshold needed to avoid a second round runoff. Binner finished with 17 percent of the national vote, making the victory margin the largest in Argentine history.
Third-placed Ricardo Alfonsín, from the Union for Social Development (Udeso), achieved 11 percent while the other four presidential candidates gained between 2 and 8 percent.
On top of choosing a new president, Sunday's vote determined the makeup of the two chambers in the national Congress, as well as electing provincial governors and mayors. With her allies, Kirchner now has majorities in both houses, meaning she should be able to push through new laws with relatively little obstruction.
Kirchner made her victory speech with just 23 percent of the votes scrutinized, such was her position of strength. Striking a conciliatory tone, she called for national unity.
---