Mayan Guatemalans disenfranchised because their government can't spell?
As elections loom, Mayan Guatemalans are unable to get correct ID cards that will soon be required to vote. Among the purported explanations: the government can't spell Mayan names.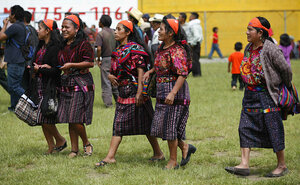 Carlos Jasso/Reuters
In January 2010, Ajpub' Pablo García Ixmatà applied for a new national ID card in his native Guatemala. He wanted to be sure he had all of his documents in order ahead of the country's presidential election. A month later he returned to the local government registration office, but his ID wasn't there. Mr. García Ixmatà's application couldn't be processed, officials told him, because of the Mayan spelling of his name.
García Ixmatà is just one of the more than 400,000 of Guatemala's indigenous voters affected by ID card issues, according to Carlos Guarquez, director of the Guatemalan Association of Indigenous Mayors. The government decided to allow citizens to vote in the current presidential elections – the second round of which will be held Sunday – using other forms of identification.
But the problems are indicative of the difficulties Guatemala continues to face in integrating its native populations and restoring national unity, 15 years after the end of its civil war. "There is institutional discrimination regarding all public processes," says Kelsey Alford-Jones, director of the Guatemalan Human Rights Commission/USA.
'Just an apostrophe'
During Guatemala's 36-year conflict, identity played an undeniable role. The indigenous population bore the brunt of the violence, with a United Nations-sponsored Historical Clarification Commission report stating that 83 percent of the victims of Guatemala's civil war were indigenous. Even though indigenous groups, including 4.4 million Mayans, make up nearly 50 percent of Guatemala's population today, they face ongoing barriers to accessing government services, says Ms. Alford-Jones.
---