In Brazil's Amazon, teens go to 'Satellite High'
One distance-learning program in Brazil's Amazon has graduation rates that far surpass the national average in remote areas.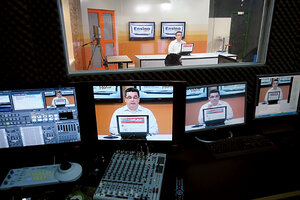 Andrew Downie
In a jungle-covered state as big as France, Ger­many, and Spain combined, life at the remotest schools is tough. Qualified teachers are hard to find and just getting kids to class along some of the 1,000 rivers can be an odyssey.
These sorts of difficulties are what spurred the Amazonas state government to launch its online distance-learning project. Now, the project's success is prompting the government to expand it.
"Our aim is to increase coverage to areas normal schools can't reach," says program director Jose Augusto de Melo Neto. "What we do is offer the structure for people to study every day."
The project was launched in 2007 in 300 classrooms – some of them four weeks by boat from the state capital. It has seen significant results.
Nationwide, 14 percent of high school students fail to complete their second year, according to Mr. Melo Neto, but for those taking the distance-learning course it is less than 3 percent. In Amazonas, 89 percent of students taking distance-learning courses graduate high school, compared with just 75 percent in Brazil as a whole.
One of the participants in the program is the Mario Silva D'Almeida school, located about two hours from the state capital, Manaus, and just a stone's throw from the mighty Amazon River.
Youngsters here in biology, math, and physics classes watch lessons on a big screen given by teachers in a Manaus studio and beamed to them via satellite. After explaining the basics – using everything from cartoons to music videos – the teachers set problems for the pupils, then go over them. A small number of students can ask questions via webcam or the chat function.
---