Panama's Noriega returns: Now, what secrets might he spill?
As the former dictator Manuel Noriega returns to Panama, residents are wondering what sorts of information he could share about the past.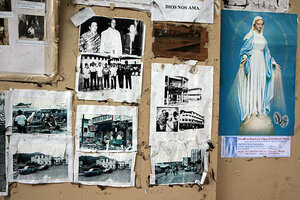 Esteban Felix/AP
More than two decades after Manuel Noriega was ousted from Panama and jailed on drug trafficking charges in the US, the former dictator is set to arrive home today, bringing closure to the legal jostling over where he should serve sentences for money laundering and murder.
Yet in many ways his return to the Central American nation could become a new chapter, re-opening old wounds for some, and for others, bringing a sense of uncertainty over what sorts of information he could share about the past, including old ties with drug cartels and politicians or business leaders in the country, says Edwin Cabrera, a journalist in Panama City.
"Above all his return has generated expectations about whether he is going to talk, and if he does, what he is going to say," says Mr. Cabrera.
Mr. Noriega, a one-time ally of the US for his work against Soviet-funded allies in Central America, took power in 1983. But he fell out of grace with American authorities for his involvement with drug cartels and was ultimately overthrown in the December 1989 US invasion "Operation Just Cause" under former President George H.W. Bush.
---