Job of Jamaica's youngest prime minister ever is up for grabs
Jamaica heads to the polls today in a vote that will decide whether it's youngest prime minister, Andrew Holness, stays on.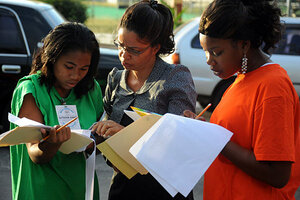 Collin Reid/AP
Andrew Holness is already Jamaica's youngest prime minister. Could he also become the nation's shortest-serving?
That "first" is up for grabs in today's race in the Caribbean nation, as he faces opposition leader Portia Simpson Miller, in what is essentially a dead heat.
Both candidates, from the two major parties – the Labor Party (JLP) and the People's National Party (PNP) – are attempting to blame the other for economic woes that have turned Jamaica, the third largest Caribbean nation, into one of the world's most indebted.
Once one of the world's largest sugar producers in the 1800s, this nation – known for its reggae and more recently the deadly violence over the extradition of gang leader Christopher "Dudus" Coke – faces about $18.6 billion in debt, more than 120 percent of its GDP. Unemployment sits at nearly 13 percent.
Prime Minister Holness has only been in office since October, after his predecessor Bruce Golding resigned. "Jamaicans are now safer, our economy is stable with a solid foundation for job creation," the 30-something Holness said before the race.
---