In Haiti, cautious hope around effort to find families new homes
The 16/6 program in Haiti helps families who have lived in tents since the 2010 earthquake move to proper shelter amid long waits for their former homes to be rebuilt.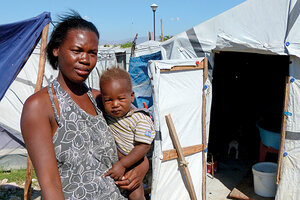 Giordano Cossu
For nearly two years, some 2,000 families lived crammed together in a makeshift camp called Maïs Gaté on the outskirts of Port-au-Prince. Set up spontaneously in the wake of Haiti's 2010 earthquake, it was an unforgiving stretch of land, barren, rendering the insides of tents unbearable through much of the year.
Now, only burned logs, some toothbrushes, and broken toys bear testament to two years of uncertainty and desperation for thousands of displaced Haitians. On Jan. 12, the two-year anniversary of the earthquake, almost everyone had gone: Residents moved out in December as part of a resettlement program called 16/6, which aims ultimately to relocate displaced people living in six refugee camps back to their 16 original neighborhoods.
The plan, announced in July by President Michel Martelly, offers cash to families to rent a home while the 16 badly damaged boroughs of the city where they were living are refurbished. It is run through four United Nations agencies in partnership with the national government, as well as local city councils. Four camps have been cleared and the remaining two are set to be emptied soon.
To some observers, that is testament to the benefits of a plan that lets the homeless move into proper shelter. But others say it is not a sustainable solution, as refurbishing of houses has barely started and rebuilding may not start for months.
Amid a painfully slow reconstruction process hampered by politics and the chaotic flow of donor funds, the government-appointed director of the program, Clément Belizaire, is optimistic about the program's impact. "It is the model we plan to extend to other camps," he says enthusiastically.
---