The working class rises up across Latin America
Maids, parking valets, and other domestic workers push back against ill treatment in 'the world's most unequal region.'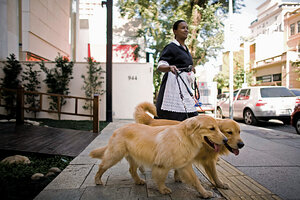 Bruno Miranda/Reuters/File
Mexico city; and Santiago, chile
When parking attendant Hugo Enrique Vera was beaten by a wealthy client in Mexico, allegedly for refusing to show the man where to find the jack in his car, the surveillance camera captured a stereotype dating to colonial times: The wealthy resident asserts authoritarian control over the worker, who takes the beating without question.
But there was a twist: Mr. Vera filed a criminal complaint and condemned his perpetrator on national news, unleashing a charged debate about callousness toward the working class.
For two decades, social movements in Latin America have centered on indigenous rights. Today the indigenous have earned new political representation, and open mistreatment will draw complaints.
Yet daily life across Latin America is replete with symbols of stubborn class inequality that go unchallenged, such as condominium buildings that have separate elevators for domestic workers.
Such constant reinforcement of status differences helps to cement class privileges in what the United Nations has said is the world's most unequal region.
While maids in crisp uniforms and parking valets at every urban venue aren't about to disappear, they and other la-borers are increasingly better-educated and aspire to move into the middle class.
Less tolerant of abuse and discrimination, these maids and nannies, doormen and gardeners are demanding more pay and benefits and a baseline of respect.
---