Prince William, oil, honor: Why Argentina is pushing to reclaim Falkland Islands
Prince William begins his six-week deployment in the Falkland Islands today. Argentines aren't ready to give up their claim to what they call the Malvinas just yet.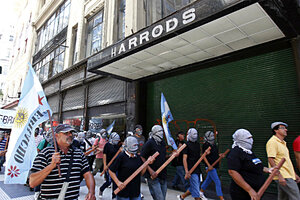 Marcos Brindicci/Reuters
With the official deployment of Prince William to the Falkland Islands, another chapter in the nearly two-century-old sovereignty conflict between Britain and Argentina is about to be written.
Argentina has compared him to a "conquistador," while Britain maintains the prince's six-week stint as a rescue helicopter pilot is routine and in fact says Argentina is the one displaying colonial fervor in seeking control over islanders who are happily British.
Located just 300 miles off of Argentina's coast and referred to as the Malvinas by Argentines, the Falkland Islands have been in the hands of the British since 1833. Argentina has not made the islands a foreign policy priority for the three decades since their brief but deadly war with the British took place over the territory.
But with the 30th anniversary of the invasion taking place this April, just as Prince William wraps up his tour of duty, and a push by Argentine President Cristina Fernandez de Kirchner to reclaim the islands in light of British oil exploration in nearby waters, the topic has once again been brought to the fore. While some claim that President Fernandez is politicizing the issue, most Argentines, even her foes, agree with the underlying sentiment that the Falklands belong to South America.
According to a new poll by the firm Ibarometro, 70 percent of Argentines surveyed in Buenos Aires consider it important to regain sovereignty of the Falkland Islands. (Only three in 10, however, would want a military solution.)
---