Security could be weakness for Venezuela opposition
Crime prevention is a hot-button issue in Venezuela, where nearly three times as many deaths as in Iraq occurred in 2009.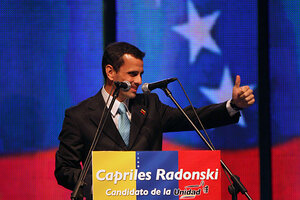 Christian Veron/Reuters
• A version of this post ran on the author's site, insightcrime.org. The views expressed are the author's own.
Citizen security is sure to be a key issue in the upcoming October presidential elections in Venezuela, but while the opposition will likely challenge President Hugo Chavez's crime policies, their candidate's record isn't much better.
Venezuela's Coalition for Democratic Unity (MUD) held their first-ever presidential primary Sunday, with Henrique Capriles Radonski beating his four opponents in a landslide, taking 62 percent of the vote. Capriles, governor of Miranda state, is now gearing up for an eight month assault on Chavez in the lead up to the Oct. 7 elections. One of the hot-button issues over which the two are likely to square off is crime prevention. Venezuela saw a record number of homicides in 2011, and the level of kidnappings (in Spanish) and robberies has surged in recent years.
---