Pollution threatens South America's Lake Titicaca
Growing urbanization is threatening Lake Titicaca along the Boliva-Peru border, and endangering those who depend on it for agriculture and drinking water.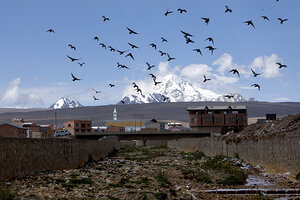 Noah Friedman-Rudovsky
Lake Titicaca glows like a sapphire amidst the subtle shades of brown on the high Andean planes. It sits on the border of Peru and Bolivia, and the Inca considered the 3,200-square-mile lake the birthplace of mankind. The waters continue to support thousands of indigenous farmers and fishermen today.
But as cities in Titicaca's watershed experience a sharp population increase, water contamination from growing urbanization becomes more acute, endangering the lake and those who depend on it.
Rivers of orange and red
The rapidly growing city of El Alto, Bolivia, is home to more than 1 million people, mostly low-income Aymara Indians from the countryside who migrate, seeking employment and education. As unplanned neighborhoods spread outward, the largest city in the Titicaca watershed struggles to provide basic services.
About 80 percent of homes in El Alto have access to potable water, but just 50 percent of its businesses and homes are connected to sewers that lead to the city's one wastewater treatment plant. The rest of the wastewater is piped directly into rivers, increasing health risks in a country of 10 million where around 30,000 children die each year from diarrhea due in part to inadequate sewers and sanitation.
Improving sewage treatment is often pushed aside due to inadequate budgets, says El Alto Mayor Edgar Pataña Ticona, and environmental laws are rarely enforced. "We have rules. They aren't very strong, but we have them," Mr. Pataña says.
A lack of quality sewage treatment in El Alto, as in many parts of Bolivia, means industrial waste also feeds into rivers. In sharp contrast to the deep blue of Lake Titicaca, opaque, foul-smelling water trickles through rivers in El Alto. Those rivers run red with blood from slaughterhouses, green with chemicals from factories, and vivid orange from mineral processing. Dead dogs and trash litter the banks, and are swept toward the lake when the rains come each year.
---