Imagining Cuba after Chávez
Venezuela provides Cuba with up to $15 billion a year, which helps offset the US embargo. But there is the real possibility Chávez may not win or survive another six-year term as president.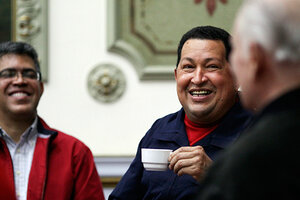 Courtesy of Miraflores Palace/Reuters
Venezuelan President Hugo Chávez views Cuban revolutionary and former president Fidel Castro as his mentor, his "father." The two countries have grown intertwined both ideologically and economically since Mr. Chávez rose to power in 1998.
Cuba and Venezuela have grown so close, in fact, that at one point in 2005, Cuba's Vice President Carlos Lage declared "We have two presidents: Fidel and Chávez." Perhaps a moment of hyperbole, but the statement speaks to the growing dependence that Cuba has on Venezuela, long after it lost its cold war ally, the Soviet Union.
Venezuela provides Cuba with between $5 billion and $15 billion annually, nearly a quarter of the communist island's $63 billion GDP, depending on the figures that are banded together by various sources. Neither government supplies the public with official numbers. In exchange, Cuba provides Venezuela with needed human capital, like skilled doctors and sports coaches.
But Chávez is battling cancer, and he faces his strongest opposition since he took office more than a decade ago. A potential loss of Chavismo, as Chávez's left-wing ideology is called, would surely transform the oil-rich, South American nation. And it would have an equally big impact on Cuba.
---