Secret Service scandal sheds light on sex tourism in Latin America
Large events like the Summit of the Americas and upcoming Olympic games in Brazil can drive up the demand for prostitution and sex trafficking.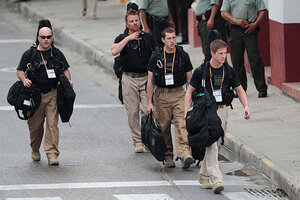 Fernando Llano/AP
Type in "sex tourism" and "Brazil" in Google, and the first site that comes up is not a news report or academic study, but advice on going rates and how to hire prostitutes.
But ahead of the 2014 World Cup and 2016 Olympics, officials are starting to clamp down on the country's image as a haven for sex tourism. Brazil's Tourism Ministry recently said it identified more than 2,000 sites advertising the South American giant's sex industry, many of them hosted in the US. To counter the reputation, the tourism ministry has stepped up efforts to advertise Brazil's natural beauties like beaches and the Amazon, instead of bodies for sale. And they have circulated information reminding visitors that sexual exploitation of minors is a crime.
Brazil's preventive efforts seem more crucial than ever after the scandal in Cartagena, Colombia, during the Sixth Summit of the Americas last weekend. Some 11 US Secret Service agents were sent home for allegedly hiring prostitutes in the steamy colonial city, also a major destination for sex tourism.
---