Argentina's renationalization of YPF: A push to manage oil on its own terms
Many have criticized Argentina's move to renationalize its oil as a populist bid likely to isolate it from the global economy. But the takeover is in line with changing power dynamics in the region.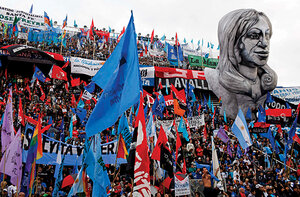 Nata cha Pisarenko/AP
As glitter rained down over 100,000 screaming fans in a Buenos Aires soccer stadium late last month, President Cristina Fernández de Kirchner trumpeted her government's takeover of Argentina's biggest oil company, YPF.
"We have recovered one of the most emblematic companies in Argentina," said President Kirchner, who expropriated the majority shares held by Spanish energy giant Repsol. "This government is looking for new forms of intervention: The state cannot turn away from its economic and social responsibilities."
Amid the largely youthful crowd waving pro-government banners and singing in vociferous support was Marcos Huenchullán, who traveled 1,000 miles from Bariloche to attend the rally. "In time, we will all reap the rewards of state control of YPF," said Mr. Huenchullán, calling the renationalization "historic."
Kirchner's approval rating in Argentina has jumped from 42 percent to 60 percent since the controversial renationalization April 16. Many in the United States and Europe have criticized Kirchner's move as a populist bid that is likely to isolate Argentina from the global economy – and perhaps a sign that she is moving toward a Hugo Chávez-style model of nationalization on a broad scale. But the takeover is in line with changing power dynamics in the region, where countries with lucrative natural resources want to – and can – take control of their own resources, despite what outside players might prefer.
---