The 'Mexican spring:' A new student movement stirs in Mexico
#YoSoy132, a burgeoning student movement in Mexico, is calling for citizens to demand more of their politicians and institutions.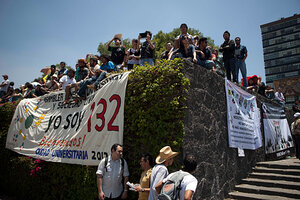 Eduardo Verdugo/AP
"Welcome to the Mexican spring," says a young student over a microphone on the campus of Mexico's most famed university, the National Autonomous University of Mexico (UNAM).
"It's time for change; it is time for a new Mexico," he continues, met by thunderous applause. Students in the audience are munching on potato chips with hot sauce and lemon and mango-flavored ices, and have gathered for the first general assembly of Mexico's brand-new student movement known as "#YoSoy132," or "I am 132."
The movement rose spontaneously among private university students protesting the way, according to them, Mexico's television coverage of the presidential election campaign is unfairly boosting the former ruling party. The Institutional Revolutionary Party (PRI) held power in Mexico for 71 years.
These students have since joined forces with others from public universities and youth across the country, gathering a vast following across social media and receiving generous coverage from local newspapers, which are calling them the new wild card in the July 1 presidential race.
While they say their primary concern is manipulation of the media in the electoral process, their protests have put the PRI on the defensive more than the party candidate's rivals have been able to thus far. And while comparing the incipient movement to the Arab Spring is an exaggeration – and they probably won't be a deciding factor in the election – many are calling #YoSoy132 a wake-up call for the nation's politicians. Many Mexicans are praising the students for having awoken like their peers from Chile, to Spain, to Egypt, who have taken to the streets to protest unfair government policies and power players in their countries.
---