Mexico's first female presidential candidate: not 'different' enough
Josefina Vazquez Mota is presenting herself as a female presidential candidate in machista Mexico, but she hasn't gained significant female backing ahead of July vote.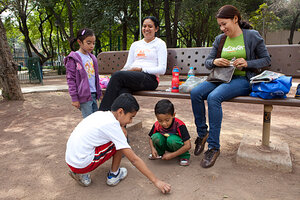 Melanie Stetson Freeman/Staff
Mexico's National Action Party (PAN) was targeting women like Lizbeth Villanueva and Columba Ontiberos when it nominated Josefina Vazquez Mota for president.
Ms. Villanueva and Ms. Ontiberos consider themselves modern. Unlike their mothers' generation, when women had a half-dozen kids on average and were confined to the home, Villanueva had two and then promptly had her tubes tied. Her reasons: she wants to continue to work as a computer instructor, invest hours and money in her children's education, and have the remaining time for her marriage and for herself.
"More children means more housework, more washing, more food to make," she says, chatting on a park bench on a recent morning in Mexico City with Ontiberos, who has one child and also plans to stop at two.
But the PAN's strategic move – becoming the first major party to nominate a female candidate for president – hasn't worked out as planned. Mexico has hit a milestone with Ms. Vazquez Mota's nomination, but she has been unable to disassociate herself from the public's discontent with her party's 12 years in power, especially on security. And even if some women are drawn to her, for many others, she hasn't come off as modern enough.
Vazquez Mota chose one simple word as her campaign slogan: "Different." She is presenting herself as a leader in machista Mexico who intimately understands how to navigate work and mothering, and a woman who would be more honest and sensitive to the needs of working families. In a country where fertility rates have dropped precipitously, the education gap between sexes has narrowed, and women are increasingly entering the workforce, many say it's time Mexico had a female in the top office. But, boxed in by party ideology and her own beliefs, she has been unable to capture a significant "female" vote to tip the race in the PAN's favor.
---