Argentina clamps down on public access to US dollars
Argentina's government has implemented currency controls to constrain citizens' ability to sell pesos and buy dollars, reigniting a crisis of confidence in the currency.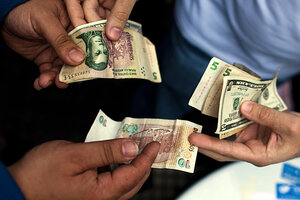 Natacha Pisarenko/AP/File
More than a decade after Argentina's default, the South American nation still suffers from a crisis of confidence in its own currency, highlighted by the middle class's panic over the government's clampdown on their access to US dollars.
The American currency is seen as more stable, and therefore more desirable for savings, than the inflationary peso, but the government is working to keep dollars in its own coffers in order to service its debt.
The currency controls implemented by President Cristina Fernández de Kirchner's administration have been largely sparked by the government's reliance on the Central Bank to lend it money to pay creditors – an unusual relationship initiated in 2010 due to the country's continued exclusion from international markets since the 2001 default that ruptured its reputation abroad.
"Argentina has not done enough homework to be able to participate in international capital markets," says Federico Thomsen, an economic analyst who advises foreign investors. "This is where there's no relationship with the IMF [International Monetary Fund]. Argentina cannot comfortably issue debts abroad without legal obstacles and there aren't many domestic lending options."
As recently as last week, US President Barack Obama was calling for Argentina to repair its relationship with the IMF. The country mainly borrows money from its national pension fund, which it nationalized in 2008, alongside the central monetary authority. Lenders typically require their repayments in an international currency.
---