Rio+20 welcomes heads of state, but change driven at local level
Leading up to the Rio+20 conference, there was skepticism an agreement on a green future could even be drafted before global leaders arrived. But real action is taking place at the community level.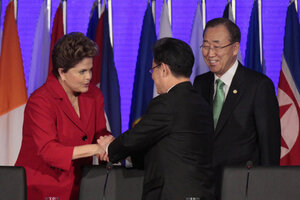 Sergio Moraes/REUTERS
The United Nations Conference on Sustainable Development, known as Rio +20, opened today with heads of state and top diplomats from around the globe converging in Brazil's sultry Rio de Janeiro.
Leading up to the conference, there was serious skepticism that an agreement on a green future for global leaders to mull over could even be drafted. Now that it has, with input from over 190 countries, there is criticism that the text doesn't go far enough. The 49-page document, called the Future We Want, can be read here. It addresses issues ranging from showing how a green economy contributes to sustainable development to the role gender equity plays.
The Rio+20 players sought to maintain an upbeat mood as the most important environmental event of the year kicks off. "We think the text contains a lot of action," said Rio+20 Secretary General Sha Zukang, in a UN press release. "And, if this action is implemented, with follow-up measures taken, it will indeed make a tremendous difference in generating positive global change."
---