Nicaragua's Olympic hero returns to the Summer Games – as a Nicaraguan
Michele Richardson swam for the US in the '84 Olympics after the Sandinistas wouldn't let her represent her native country. Nearly 30 years later she'll lead Nicaraguan athletes at the opening ceremony.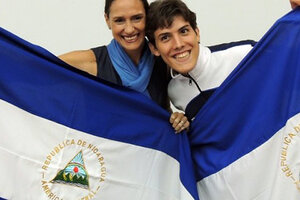 Carl Ahlers, Courtesy of The Nicaragua Dispatch
Twenty-eight years after winning a silver medal for the United States in the 1984 Olympics, former swimmer Michele Richardson de Ahlers is returning to the summer Games under a different flag: the blue-and-white standard of Nicaragua.
Ms. Richardson will lead Nicaragua's seven-athlete delegation in the July 27 opening ceremony of the 2012 London Games. It will be Richardson's first trip to the Olympics since her medal-winning performance in Los Angeles, and the first time she's allowed to represent her native country on the international sporting stage. She was previously denied this opportunity by the Sandinista government.
"To go to the Olympics representing the country where I was born and the country where my children were born is a dream come true," says Richardson who left for London early yesterday morning.
"I can't even believe that I am getting this opportunity to represent Nicaragua at the opening ceremony and to carry the flag. I'm absolutely in shock about it, and I'm very happy and honored at the same time."
---