The buzz about Haiti – as a tourist destination?
President Martelly wants to attract investors to build hotels and resorts, with an estimated 2,250 hotel rooms completed by 2013. It's a way to create jobs and improve the economy, but can it work?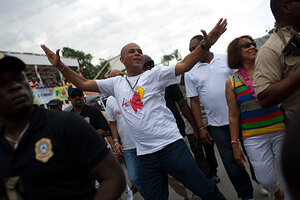 Dieu Nalio Chery/AP
Singer turned president of Haiti Michel "Sweet Micky" Martelly was back on stage this year. But instead of performing the bawdy pants-dropping routines that made him famous, he was proposing something perhaps more audacious: Haiti as a tourist destination.
From Davos to Miami, Mr. Martelly has spent part of his first year as president promoting the country's tourism industry as a way to both change its image and grow the economy.
"On tourism … for the first time Haiti is back on the international map," he says.
Last year, only 300,000 tourists visited Haiti, compared to the neighboring Dominican Republic's intake of 4.3 million. But not long ago, Haiti was the place to visit in the Caribbean. But then years of dictatorship, an AIDS epidemic, and political upheaval conspired against the tourism industry.
Banging the neoliberal drum that he's championed for other sectors – "Haiti is open for business" is an oft-quoted slogan – Martelly wants to attract investors to build hotels and resorts and tourists to fill them. Working with the Mexican institution that planned that country's tourist successes like Cancún, the Martelly administration is hoping to return Haiti to its former glory as the "Pearl of the Antilles."
"We have in [the tourism] sector $450 million worth of investment that's being made in Haiti," Martelly says in an interview with The Christian Science Monitor. "You'll have more of that coming. It's a land of opportunity."
---