Colombia's Santos sees popularity dip as public worries about security
President Juan Manuel Santos is halfway through his four-year term, but with a rise of guerrilla attacks on his watch his approval ratings have fallen.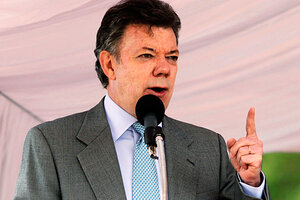 John Vizcaino/Reuters
When President Juan Manuel Santos swept into power two years ago, he had such overwhelming support he managed to bring together members of the radical right and the center-left in his national unity government. The move won him international praise – and the cover of Time magazine's international edition.
But as Mr. Santos hits the halfway point in his presidency, he is finding himself fending off growing discontent at home.
According to several polls released this week Colombians feel less safe and more pessimistic about the future of their country. One poll, published by the newsmagazine Semana showed Santos' approval dropping from 71 percent in July 2011 to 47 percent last month.
The same poll showed Colombians are increasingly unhappy with the government's handling of unemployment, the economy, and corruption. Critics say implementation of policies which have won him praise, such as a law that provides financial and symbolic reparations to victims of Colombia's conflict, has been sluggish. The legislation stipulates the return of hundreds of thousands of acres of land to those who were forced to flee their farms due to Colombia's decades-long armed conflict. Though it went into effect in January, to date no land has been returned to victims.
But Colombians are most concerned about what they see as the country's faltering security.
"Security has gotten worse since [Santos] arrived," says Jennifer Camelo, a beautician in the country's capital, Bogota.
A year ago, 59 percent of Colombians approved of how Santos was handling security at home, which has two active leftist rebel forces, half a dozen powerful drug trafficking syndicates, and a growing presence of petty crime. Today only 36 percent continue to approve of his approach.
Indeed the overall number of guerrilla attacks has risen over the past two years. But these attacks are largely limited to rebel-held areas, which means some 70 percent of the country is unaffected by them, said Defense Minister Juan Carlos Pinzón.
In a speech about security July 30, given while touring the country highlighting the achievements of his first two years in office, Santos said the spike in rebel attacks is a reaction to aggressive military action targeted in rebel strongholds.
---