Brazil: Mushrooming strikes put Dilma to the test
A strike by university professors has mushroomed to include employees of some 30 federal sectors who want raises, testing Brazil's President Rousseff just months before municipal elections.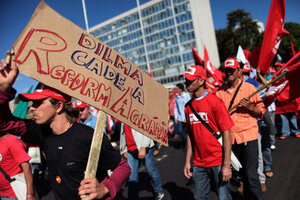 Eraldo Peres/AP
A strike that began in May by university professors has spread to other federal sectors and is causing intermittent chaos on roads, passport offices, and ports, and is providing one of the biggest challenges yet for Brazilian President Dilma Rousseff's 19-month old government.
Teachers started the strike seeking higher pay and better career prospects, and now federal police, customs officers, and truck drivers are also involved. As many as 400,000 people have taken some kind of industrial action in recent weeks.
The strikes are a test for President Rousseff, who – despite never holding political office before assuming power in January last year – has performed well, with popularity ratings above 70 percent.
A political gamble
Rousseff was slow to negotiate with the teachers, who did not take kind to her suggesting that federal workers already have safe, well-paying jobs and that her priority was providing better conditions and more job security for those in the private sector.
Rather than seek a quick end to the strike, she gambled on it running out of steam. However, the strike spread, and it wasn't until last week that she promised money to appease university professors. They are expected to accept the offer of a 15 percent raise over the next three years.
Even if they do say yes, Rousseff will still have to satisfy the additional 30 or so sectors who joined the professors' strike and enjoyed significant and regular raises under the previous government. And she has a deadline: Rousseff must present her final 2013 budget to Congress on Aug. 31.
"President Dilma is in a difficult financial situation and under a lot of pressure from public workers who were used to a Lula government that had more budgetary space to offer raises," said former President Fernando Henrique Cardoso.
---