Ecuador's Correa says no hypocrisy in his defense of WikiLeaks' Assange
Ecuadorean President Rafael Correa, whose government has closed 14 news outlets since the start of the year, says his free speech defense of Assange isn't hypocritical because different rules apply.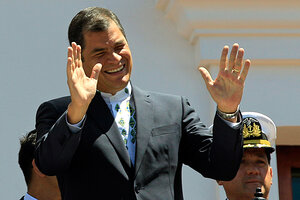 Dolores Ochoa/AP
For President Rafael Correa, there's no hypocrisy in his defense of Wikileaks founder Julian Assange on free speech grounds and the harsh restrictions he imposes on the press in Ecuador.
President Correa says the Latin American press is corrupt and so needs a different set of rules to apply. "Don't let yourself by fooled by what's going on," he told foreign journalists in Ecuador's second city, Guayaquil, on Monday. "There is this image of the media as being about Woodward and Bernstein and the struggle for freedom of expression, but that's not the case here. The press in Latin America is totally corrupt."
Granting asylum to Mr. Assange, the founder of the anti-secrecy group that has released thousands of US diplomatic cables, is part of what he calls a "David and Goliath" battle against big powers; a battle in which Ecuador "will not back down, no matter how long it takes."
Assange took refuge inside the Ecuadorean embassy in London in June to avoid extradition to Sweden, where he's wanted for questioning on allegations of rape, sexual assault, and unlawful coercion.
---