Obesity weighing on America – Latin America, that is
The fattening of Latin America mirrors a global pattern that has left some 1.5 billion adults overweight. Now, from Mexico to Chile, it's triggering a political response.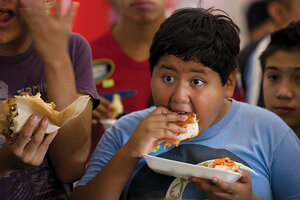 Eduardo Verdugo/AP
Santiago, Chile; and Mexico City
It's a gloomy day in downtown Santiago, Chile. Men and women in dark clothes hustle down a pedestrian mall, rushing back to work as their lunch break ends. But for many children, the gray scene is pierced by a beacon: a local McDonald's restaurant with bright, wall-sized posters of ice-cream cones and hamburgers, a warm entryway, and especially the promise of children's meals with toys tucked inside.
If Chilean Sen. Guido Girardi has his way, however, there will be no more "Ice Age" figurines or other cartoon-movie icons to tantalize tots. Senator Girardi filed a complaint Aug. 1 against McDonald's, Burger King, and Kentucky Fried Chicken for allegedly marketing to children using toys, and demanded that the nation's health ministry crack down on food manufacturers that use stickers, games, or other child-friendly paraphernalia to draw in the youngest consumers.
The move comes as Chile's waistline continues to expand. With a quarter of Chileans registering as obese, the Andean country's residents are now almost as overweight as the British, and quickly catching up to North Americans.
Recent studies show almost a quarter of first-graders in Chile are clinically obese, which means they have a body mass index (BMI) – their weight in kilograms divided by the square of their height in meters – of 30 or more.
Chile is not alone in Latin America. Mexico is vying with the United States for the distinction of being the world's heaviest nation, depending on which demographic is being studied. Only North America exceeds South America in terms of how heavy the population is. Even in Central America, where some countries are more associated with malnutrition, obesity rates are increasing.
---