Chavez vs. Capriles: Corruption takes center stage in Venezuela's election
Opposition candidate Capriles expelled his top aide after a film showed him accepting cash from an unknown source. Are corruption accusations enough to push his campaign off track?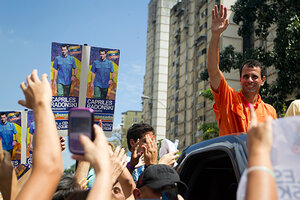 Carlos Garcia Rawlins/Reuters
Venezuelan presidential candidate Henrique Capriles Radonski expelled a top aide last Thursday amid corruption charges that could prove damaging to his campaign less than a month before Election Day.
Deputy Juan Carlos Caldera was filmed receiving a cash payment from a blurred-out figure, which Mr. Caldera claimed was a donation for his own mayoral campaign. Government officials are alleging the money was a bribe for political favors related to Mr. Capriles' campaign, however.
President Hugo Chavez's challenger quickly distanced himself from the episode and denounced the act: "I'm never going to permit anyone [to] use my name for their own personal benefit," Capriles said.
Corruption has plagued Venezuelan, and much of Latin American, politics for decades. From the infamous RECADI exchange rate scandal where millions of dollars were passed in bribes and false government credits, to the impeachment of former President Carlos Andrés Pérez on embezzlement charges, many are disappointed that the most serious challenger President Chávez has faced during his 13 years in office may have already fallen victim to political pitfalls, bearing resemblance to corrupt governments of the past.
"Corruption in Venezuela has definitely increased," says Mercedes de Freitas director of the anti-corruption NGO, Transparencia Venezuela. "The size of the state has increased, public workers and funding have increased. However, the systems of control and penalties have not." Venezuela currently ranks 172 out of 183 countries on Transparency International's Corruption Perception Index, the lowest rated country in the region except for Haiti.
---