Argentina: Oil nationalization and currency controls divide a nation
Months after Argentine President Cristina Fernández de Kirchner's nationalization of the YPF energy company and controversial economic policies, where does Argentina stand?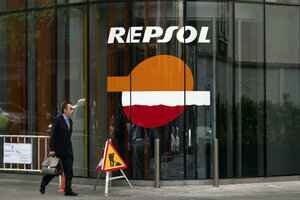 Paul White/AP/File
Argentina is no stranger to financial crises. In fact, in the past 40 years, one has erupted every decade. This means many Argentines are skittish when it comes to controversial government decisions like nationalizing the country's biggest energy company or receiving warnings from international bodies who condemn it for misreporting economic statistics.
Last month, an estimated 200,000 people marched through the streets of Buenos Aires protesting a recent string of government policies aimed at curbing capital flight and fortifying Argentina's central bank reserves.
Together with controversial nationalizations and import limitations, Argentina's currency controls form part of an interventionist, protectionist economic strategy that President Cristina Fernández de Kirchner's government says is needed to boost national industry.
Mercedes Marcó del Pont, president of the central bank, said the current measures will lead to a "winning decade [for Argentina], while developed countries are experiencing a lost [one]."
But as inflation skyrockets to an unofficial rate of 24 percent, the highest in South America, President Kirchner's economic policies are dividing the country and putting it at risk of a future crisis, analysts say.
This is "an attack on my liberty," says María Pagano, one of the protesters, who denounced tightening restrictions on purchasing dollars, which many Argentines prefer for saving because of the historic instability of the peso.
---