Chávez reelection at risk as Venezuela's oil heartland moves on
In Venezuela's oil-rich east, some say the administration's management of natural resources – including oil spills and refinery accidents – has pushed them toward the opposition.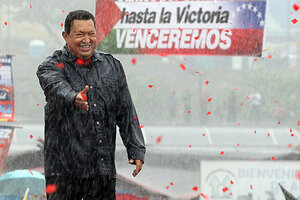 Pedro Portal/The Miami Herald/AP
Puerto La Cruz, Venezuela
Here in the oil-rich eastern region of Venezuela, propaganda for President Hugo Chávez dominates the landscape, from spotless billboards by the airport to dusty banners over trash-strewn lots. A hillside water tank carries the name of Chávez's PSUV party.
Though President Chávez has spent years focusing on the region's strategic importance, cultivating support for his party and its policies of "21st century socialism," his campaign has hit resistance here. And it has become one of the places where opposition candidate Henrique Capriles Radonski stands to pick up votes when the country goes to the polls on Sunday.
Over the course of his nearly 14 years as President, Chávez has made it clear he wants supporters of his socialist revolution to control access to the region's quarter trillion barrels of oil reserves. But with a record of oil spills, a rising accident rate in refineries, and social problems like the continent's highest murder rates and weekly blackouts, Chávez's time in office may be working against him, weighing on his public support here, and across much of the country.
"It's very tight, and both have very similar chances of winning," says Iñaki Sagarzazu, a Venezuelan teaching at the University of Glasgow, Scotland. "It will come down to who mobilizes the most."
Mr. Sagarzazu says that Chávez support has moved from urban to rural areas over the years. That's left the president with a base in the plains while urban areas have moved largely to the opposition, which this year is supporting Mr. Capriles, governor of a state that includes part of the capital, Caracas.
---