Uruguay's Senate approves abortion bill: Will there be a ripple effect?
Uruguay's Senate approved a bill legalizing first-trimester abortions, and the president says he will sign it. Abortion is still a political hot potato in Latin America, but some say such legislation could spread.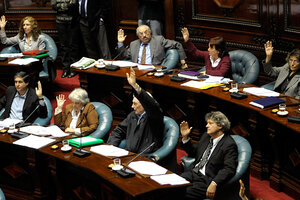 Matilde Campodonico/AP
Uruguay paved the way for one of the most far-reaching abortion rights laws in Latin America this week when its Senate voted to legalize the procedure during the first trimester of pregnancy. The controversial decision has sparked speculation as to whether regional neighbors – from liberal Argentina to conservative Chile – could follow suit.
Uruguay's Senate vote on Wednesday put the southern cone nation "at the forefront of countries that have established [these] rights," says Véronica Pérez, a political scientist at Montevideo's University of the Republic. President Jose Mujica, a former leftist guerrilla, is expected to sign the bill into law.
Though Uruguay is already considered one of the most liberal countries in the region – it was one of the first Latin American nations to officially separate the state from the Catholic church in the early 1900s, and it recently floated the idea of legalizing marijuana – the abortion debate has been met with considerable opposition.
This week's vote was the third time the bill has been introduced in the Uruguayan Parliament and the Senate's final vote tally of 17 in favor and 14 against shows how divisive the issue remains. A previous bill was approved in 2008, but then-President Tabaré Vázquez vetoed it.
---