Can a gang truce in El Salvador open the door to lasting peace?
For years El Salvador battled gangs with prison sentences and an iron fist. But a gang truce brokered in March has lasted longer than anyone expected, with homicide rates plummeting.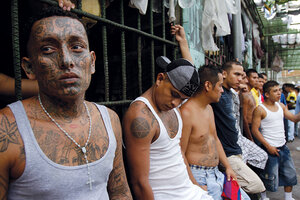 Luis Romero/AP
The streets of this city's toughest barrios are quieter than they have been in years – a disquieting tranquility, residents say, because it has come from a truce no one believed possible between two of the country's most violent rival gangs. It is a pact no one can be sure will last, yet hopes are growing.
For more than a decade El Salvador has approached the violence resulting from warring gangs 18th Street and the Mara Salvatrucha-13 (MS-13) with jail time. But prison populations swelled, and the violence didn't abate. Faced with one of the world's highest homicide rates, El Salvador recently took a new and politically risky approach to the violence, bringing gang members and civil society – tacitly backed by the government – to the negotiating table.
A gang truce brokered in March has entered its eighth month, lasting longer than anyone expected. Homicide rates are down to five from more than 14 daily prior to the truce, and now the government is exploring ways to bring it more permanence, involving more stakeholders and approaching it as a "peace process" that will include initiatives addressing the economic and social roots of the problem.
"Our conclusion is that the crime is only an expression of a much deeper social problem," says Raul Mijango, who, as a respected former legislative deputy and ex-guerrilla who fought El Salvador's military regime during the civil war, helped broker the deal.
As the truce in El Salvador takes shape, the United States recently shone new attention on Salvadoran gangs, designating the MS-13 a transnational criminal organization. While some analysts argue that imposing financial sanctions on the gang, which has connections in the US and Central America, could have more to do with fighting them domestically, others see it as a potential blow to the peace process. El Salvador would no longer be engaging with street gangs, but international organized crime. El Salvador's president called the label "exaggerated."
---