Covered in tattoos, can El Salvador's gangs reintegrate into society?
With tattoos even on their faces, members of El Salvador's rival Ms-13 and 18th Street gangs may not be able to hide alliances they've forsaken. That's just one challenge they face.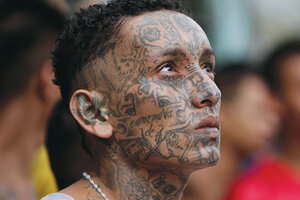 Luis Romero/AP
What happens when your past life of crime is literally written across your face? For gang members in El Salvador, their characteristic excess of tattoos often betrays their affiliation: 18th Street or Mara Salvatrucha-13 (MS-13).
In El Salvador, gang affiliation – inked across faces and forearms – is difficult to hide, and the culture extends beyond members to their spouses, children, and extended families. Theirs is an identity that can't be legislated away.
So what can be done?
That question prompted a frank discussion about reintegration during talks that led to the March truce between the 18th Street and MS-13 gangs, says Raul Mijango, who helped facilitate the nonviolence pact.
The former legislator and ex-guerrilla envisions a day when gang members drop crime and retain only their subculture.
Mr. Mijango says he told the men during the talks, "If you quit operating as a criminal structure, and remain associated for reasons of identity or solidarity – not harming society – then what's the problem?"
Carlos Mojica, an imprisoned leader of the 18th Street gang, says that vision is possible.
"We [gang veterans] have concluded there is no future in having thousands and thousands of our compañeros incarcerated for 40, 50, 70 years without any hope of getting out or preparing for a future," Mr. Mojica says.
The future is at risk not just for gang members but their families and communities, too. Gang affiliation creates a web of association that even affects whether kids can attend a public school without facing death threats.
---