Wanted in Brazil: more English speakers
Brazil placed near the bottom of a 54-country ranking of English proficiency this week. But with floods of tourists expected to attend the 2014 World Cup and 2016 Olympics, more people are signing up for English classes.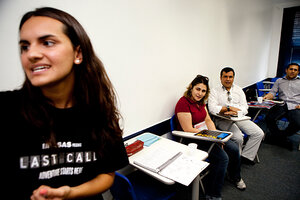 Melanie Stetson Freeman/The Christian Science Monitor
Each day a group of seven comes to this small classroom in downtown Rio de Janeiro on lunch break. The energetic young teacher, Natália Correa, runs a drill of simple English sentences by snapping her fingers and clapping her hands to keep up a fast call-and-response beat.
"Ask me how much the pants are!" she demands.
"How much the pants are?" many of the students respond enthusiastically, if not correctly, forgetting to invert the question.
Their little cluster of learning includes a lawyer, real estate agent, IT specialist, and civil servants. And it would be nothing extraordinary, except that this kind of gathering was hard to find just a few years back.
Rated at the bottom of a new list released this week on English proficiency in a 54-country survey, Brazil is now rushing to play catch-up on the linguistic front after decades of low priorities placed on English – and Spanish – learning. With its vast size, the language barrier placed between the Portuguese-speaking nation and the rest of Spanish Latin America, and two decades of military rule that ended in the 1980s, Brazil was for a long time very inward-looking, closing its door to outsiders.
But experts say that's changing – albeit slowly – as the world eyes Brazil's booming energy sector, its public works projects, and its plans to host the World Cup in 2014 and the Summer Olympics in 2016. And with a rising middle class, millions of Brazilians are today beginning to treat English classes not as a privilege for the rich but as a commodity, not unlike a gym membership.
"It's part of the day-to-day of the growing middle class to have English as an activity," says Rone Costa, the manager for development for Cambridge ESOL Examinations in Brazil, which tests and certifies students' English proficiency.
---