Violence against women in Latin America: Is it getting worse?
Across Latin America, women are confronting a rise in brutal attacks – as advocates struggle to sustain the progress that's been made in curbing violence against women.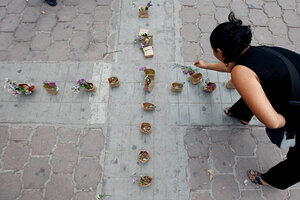 Edgard Garrido/Reuters
Mexico City; and BogotÁ, Colombia
Like the majority of women in Colombia, Viviana Hernandez won't leave her house without makeup. She applies a thick layer of foundation and outlines her slightly deformed lips with red liner. She draws in her eyebrows – she lost her natural ones – and hides the few lashes she has left and her disfigured eyes behind the large dark sunglasses that she's worn day and night since an attacker threw acid on her face five years ago.
Ms. Hernandez has no doubt it was her estranged partner who ordered the attack. Once she came out of intensive care at the hospital, she remembers him calling her cellphone, telling her that no one else would want her now but him.
Hernandez's is but one face of violence against women in Latin America, a worrying trend in a region that has seen enormous advances for women over the past decade. Forty percent of the region is now led by women: There are female heads of state in Brazil, Argentina, Costa Rica, Trinidad and Tobago, and Jamaica. Women have reached equal access to education and have increasingly joined the workforce. Awareness has also grown around the issues of violence against women through a spate of legislation aimed at protecting them.
But this progress stands in sharp contrast to gender-based violence that has long plagued the region, and is now manifesting itself in new and dangerous ways.
---