Can Mexico's President-elect Peña Nieto and Obama set a new tone?
Peña Nieto travels to Washington today ahead of his inauguration. With Mexico's growing economy and falling homicide rate, some see an opportunity to bolster US-Mexico ties.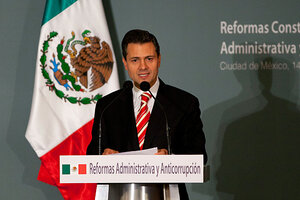 Eduardo Verdugo/AP
As Mexico's incoming President Enrique Peña Nieto visits newly-reelected United States President Obama today in Washington, he will try to set a new tone for the US-Mexican relationship that expands beyond drug war violence.
His predecessor, Mexican President Felipe Calderón, has been hailed in US government circles for taking on drug traffickers, a decision that moved the two countries closer than they've ever been in an era of "shared responsibility" of the drug war.
But, while Mr. Peña Nieto will attempt to reinforce his commitment to tackling organized crime, he will also highlight the growth and potential of Mexico today – much of that may surprise many Americans – which has occurred while grisly headlines of drug violence have captured the news.
In the opinion pages of The Washington Post on Nov. 23, Mr. Peña Nieto wrote:
It is a mistake to limit our bilateral relationship to drugs and security concerns.… We must build a more prosperous North America, on the basis of an alliance for a further competitive and productive integration of our economies.
---