'Death evictions'? Guatemala's violence takes an unusual toll
Guatemala has one of the world's highest murder rates. The two largest public cemeteries in Guatemala City are so cramped that relatives must pay rent on tombs – or risk family members' 'eviction.'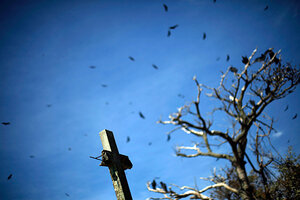 Jorge Dan Lopez/Reuters
Guatemala City, Guatemala
The epitaph on a simple bronze-colored tombstone in Guatemala City's main national cemetery reads: "Pray for your eternal peace."
But peace is hard to come by in Central America's largest city – even in death.
Along with a rapidly growing population, Guatemala has one of the highest murder rates in the world. Last year, the crime-ravaged capital of Guatemala City averaged 40 reported homicides a week, according to the United States State Department.
As a result, the capital's two largest public cemeteries are so cramped for space that relatives must rent tombs for their deceased. If they fall behind on payments, cemetery workers "evict" the dead and move the remains to mass graves. The rental process isn't new, but now more and more of the city's dead are being taken to several mass graves on the outskirts of the main cemetery, where the air reeks of a neighboring garbage dump and the wings of vultures beat in the sky.
The practice of grave rentals and evictions speaks to many of the challenges facing this beleaguered country: violence, the rift between rich and poor, and unemployment are but a few. The shadow of a 36-year civil war that left more than 200,000 dead still hangs over the impoverished nation. A 1996 peace accord provided little respite before street gangs, and more recently Mexican drug cartels moved in.
Today's drug violence is exacting an even greater toll on the average Guatemalan than the brutal civil war, says Steven Dudley, co-director of Insight Crime, which studies organized crime in the Americas.
"It is more urban," Mr. Dudley says. "It is happening in their neighborhoods on a daily basis … via extortion, physical violence, and psychological violence."
---